Leaner businesses generate more profit
MyCalibrations.com helps you maximise new business generation, client retention and staff efficiency. The system is simple to use, with 24/7 access to an intuitive web based management system.
Our system supports ISO 9001 and ISO 17025 and is used by UKAS accredited establishments.
Clients such as: Babcock Plc, John Lewis Partnership and Calibration Engineering Services Ltd have all reduced costs, improved their asset management and gained greater control of their businesses.
These clients have also seen significant overhead reductions and added £000s to their bottom-line.
Grow closer to your customers with "Dual Control" asset management, add value to your service and stand out from the crowd.
Manage your new and old customers using our customer relationship functionality and ensure you never miss a sales opportunity again.
Stay on top of your revenue forecast and your engineers' activity rates via our unique "Situation Dashboard".
Send and store certificates online.
Streamline administration processes and increase staff productivity by improving efficiency rates by over 35%.
Key Features
Business Overview Dashboard, see your business in an instant.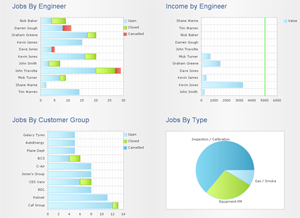 Using the MyCalibrations CAM service helps you manage your business at the click of a button.
Your dashboard displays:
Your estimated revenue for the month
Number of Open and Closed jobs per engineer
Revenue per engineer for the month
Total Open and Closed jobs for the month
The timeline diary displays your booked jobs against their assigned engineer by day, week or month. This clarity on engineer time management has helped our clients:
Reduce "on-the road" costs by removing multiple bookings to a geographic region
Identify additional capacity
Highlighted deployment issues
Seamless link between engineer diaries and customer service team
Reduce costs/overheads by reducing administration staff
Asset Management, delivering transparent working relationships
Customers are demanding more and more visibility on their equipment history and associated costs
Offer your clients "read-only" access to their equipment online.
Help your customers reduce their exposure to risk.
Accurate and clear asset management reduces costs and wastage.
Simplified view for customers to monitor the status of their equipment.
Equipment status histories enable greater control on missing items and costly purchases
Build confidence and trust between you and your customer
Your clients get a full view of their managed assets and their associated status'. Adding value to your service offering and satisfying a growing requirement from your client through the click of a button.
Customer Relationship Management, be a step ahead of your clients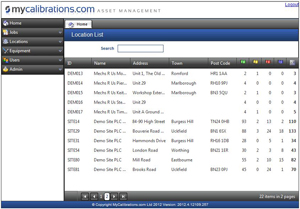 Improve your business relationships by never forgetting a vital call.
Our system offers:
Call reminders
Date stamped Contact notes creates an archive of customer interactions
Renewal alerts so that a sales opportunity is never missed again
Create action notes for the end user regarding specific pieces of equipment
View all of your accounts in an instant and identify new business opportunities via the colour coded status columns on the right hand side.