Speed up engineer visits and take your service to the next level.
Engineers can now use MyCalibrations.com on handheld units to run inspections and calibration work. The RFID system means there is no need for paper, your engineers can work quicker and the data is in the central system within hours of completing the work.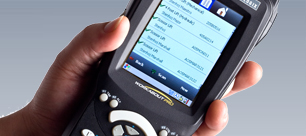 In an instant your engineer can see and input:
Inspections requirements
Calibration settings
Visit reports and visit jobs lists
Asset identification and location
All the information can be entered into the handset eliminating the administrative burden and unreliability of manual, paper based processes. The certificates will be generated automatically through MyCalibrations giving your customer near "real-time" updates on their assets . No other calibration management system offers this unique and state of the art technology.
See how your business can become more efficient with less paper work by using MyCalibrations Mobile Data.